It's been another busy month for staff and students at Fowey River Academy. Government guidance has meant more changes since the start of 'Lockdown 2', the students have adapted to these changes extremely well and we continue to run a safe and happy environment and we are bucking the national trend having remained open to all students, despite the fact that nationally 46% of schools have shut to one year group or more.
Although life is very different, students are enjoying being with their friends and the importance of this should not be underestimated. We continue to work hard to address the anxiety that COVID has caused and our ethos as a caring school means this is always at the forefront of what we do.
It's always nice to receive external feedback and we were pleased when Roselyn bus company recently complimented our staff for the way we manage the buses and for our student's behaviour. We work very closely with Roselyn and their brilliant drivers and meeting and greeting students at the start and end of every day on the buses to ensure everyone is safe has become an important part of school life.
This week would have been our project week, a time to do creative and challenging activities out of timetable and in the great outdoors, but given the restrictions, this time has been used to specifically catch up on gaps in knowledge due to Covid.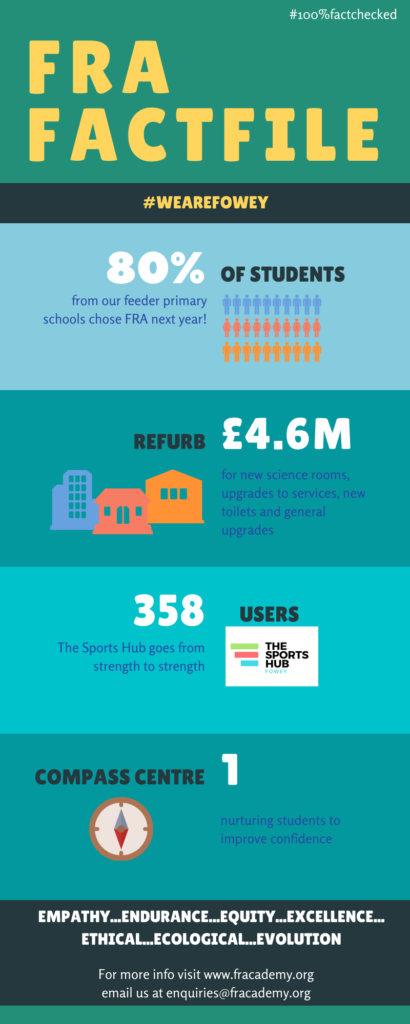 It's not all Covid doom and gloom though, we are trying hard to ensure there is some fun as well, and we have been gradually introducing our MIXX programme back into the timetable to ensure clubs and after school activities can continue. This had to stop for a while but we have been given the green light to continue.
Site plans for refurbishment continue with the DfE, and we hope to be in a position soon to confirm the final arrangements so we can get moving next year. Covid has put a hold on developments but things are moving again and we are looking forward to changes to our buildings which will include new science labs and refurbishments to the Tower Block and other critical services.
The Sports Hub has had to shut due to restrictions, but our team of brilliant trainers have been working with members individually to support their fitness goals, coming up with bespoke programmes, 121 zoom sessions and live online classes via Facebook. So if you are worried about the effect of lockdown and want some help to reach your fitness goals, the team are on hand to help. www.thesportshubfowey.org
Finally, more good news. Following our increase in pupil numbers this year, with a record intake of Year 7's compared to the last 10 years, we have followed that up with another strong intake for the next academic year. From what we know, it looks as if over 80% of children in our primary feeder schools chose Fowey. This is a massive vote of confidence and we thank everyone, staff, students, and parents, for playing their part in the continued revival of Fowey River Academy.
Stay safe.